Our Mission at Trinity is very simple: Sharing Christ's Love through Welcoming, Worshiping, Learning, and Serving. We take great joy and satisfaction in working within the community, and welcoming all who wish to worship with us.

Trinity Evangelical Lutheran Church (ELCA)
401 Fifth Street North, Saint Petersburg, FL 33701
Sunday Worship: 10 a.m.
W

e welcome all who come to our worship services.
Communion is open to all believers!
  Trinit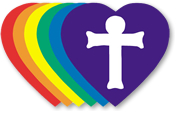 y is a "Reconciling in Christ" Congregation in the ELCA.  — Welcoming all people without regard to race, family or economic status, gender identity, sexual orientation, or differing abilities.
Trinity Lutheran is located in the downtown area of Saint Petersburg, a block from the Coliseum and the Senior Center. Parking is available in three lots and on the street. VIEW MAPS

The Church Office is open M-Th 9am – 3pm
Enjoy our member, Brendan Hall, performing the Prelude and Fugue in C Minor from Bach's "The Well-Tempered Clavier," as he did at Trinity on the Third Sunday of Advent.
From Pastor Paul
"Beloved, we are God's children now; what we will be has not yet been revealed. What we do know is this: when he is revealed, we will be like him, for we will see him as he is."  (1 John 3:2)
Sunday worship in the month of November seems designed to make us take a step back and consider the bigger picture.  It offers us the chance to consider words like "eternity" and "forever."
The first Sunday of the month is All Saints Sunday, when we remember loved ones who have died and celebrate the fact that we are still intimately connected to them.  The last Sunday of the month is dedicated to "Christ the King," a recognition that Jesus rules over all things in heaven and on earth.
And on the Sundays in between, the scriptures remind us of God's bigger picture of "life, the universe, and everything"—a picture with which it is easy for us to lose touch in the business of our day-to-day lives.
Is it possible that the things and situations that consume us on a given day might, in the grand scheme of things, be inconsequential?  How can we remind ourselves that our sometimes stressful—sometimes boring, sometimes joyful—sometimes painful, day-to-day lives are only a part of our eternal existence with the God who loves us?
Prayer has a way of lifting us out of the world we see and connecting us with the things that are timeless.  Prayer is about talking to God and listening to God.  It is conversation with God, and there are a number of ways to do it.  There are the printed words that we can recite, the glories of nature for which we can give thanks, and the silent longings of our hearts.
We can read a daily devotion that offers a scripture passage, a short commentary, and a prayer.  We can read from the book of Psalms and discover prayers for every mood and every situation imaginable.  We can start any reading of scripture with a prayer that says, "Lord, speak to me."
We can pray for specific people and situations that weigh on our hearts; we can also pray that we will become aware of God's presence and God's will.  We can write out our prayers, or draw them, or turn them into music.
In the best and worst times of your life, it is my prayer that you will be able to lift your gaze from the things happening around you and catch a glimpse of the divine love that will never let go of you.
WEEKLY ACTIVITIES FOR OUR TRINITY FAMILY
Sunday 9:00 a.m Bible Study
Sunday Worship 10:00 a.m.
Wed 8:15 a.m. Men's Breakfast 
Wed 5:45 p.m.  Bell Choir practice
Wed 6:30 p.m. Supper Study
Fridays 9:30 a.m. – 12:30 p.m. Distribution at the TLC Food (& Clothing) Pantry

The Ibis String Quartet—violinists Julie Tollen and Rebecca Zapen, violist Lauren Collier, and cellist Ruth Kern—has performed its unique blend of Classical and Pop music throughout the Tampa Bay Area.
It has been featured in "Sound Bites" as part of the ARTS46/4 initiative and premiered "Three Dementians," by St. Pete's own Tom Sivak, at Creative Pinellas' Festivale 50. It has also performed regularly at Creative Soul Studio and Classical Revolution St. Petersburg, and appeared live in the studio on WFLA News Channel 8's "Daytime."
On Saturday, Nov. 16, at 8:00 p.m., at Trinity Lutheran Church in downtown St. Pete, Ibis will play, among others, selections by Beethoven, Dvorak, Mozart and Scott Joplin, arrangements from "Carmen" and "La Boheme," and a surprise pop tune or two.
Proceeds from the concert pay for the restoration of Trinity's historic pipe organ and support the music ministries of the church.
Click Here to purchase tickets in advance on our EventBrite page!