Our Mission at Trinity is very simple: Sharing Christ's Love through Welcoming, Worshiping, Learning, and Serving. We take great joy and satisfaction in working within the community, and welcoming all who wish to worship with us.

Trinity Evangelical Lutheran Church (ELCA)
401 Fifth Street North, Saint Petersburg, FL 33701
Sunday Worship: View our services online (see Worship page)
W

e welcome all who come to our worship services.
Communion is open to all believers!
  Trinit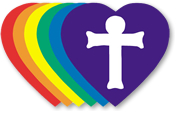 y is a "Reconciling in Christ" Congregation in the ELCA.  — Welcoming all people without regard to race, family or economic status, gender identity, sexual orientation, or differing abilities.
Trinity Lutheran is located in the downtown area of Saint Petersburg, a block from the Coliseum and the Senior Center. Parking is available in three lots and on the street. VIEW MAPS

The Church Office is open M-Th 9am – 3pm
Help support the ministry of Trinity Lutheran Church. Click the blue "Donate Now" button at the bottom of this page, or use your smart phone's camera to follow the QR Code.
Worship with Trinity
We are worshiping in our sanctuary on Sunday mornings at 10. You should call the church office to tell us when you plan to attend; it helps us to plan accordingly.   Through links on our Worship page, you can watch a live-stream of worship at 10 o'clock or a recording afterward.
Highlights of worship are often posted on our Facebook page.
Check back here for updates.
From Pastor Paul
Teach us to number our days that we may apply our hearts to wisdom.  (Psalm 90:12)
 During June, we return to the part of the church calendar known as "ordinary time."  We don't call it "ordinary" because it isn't as exciting as, say, Easter.  The name refers to how we "number the days" of the season; the ordinal numbers that we use to identify "The Third Sunday after Epiphany" or "The Twenty-First Sunday after Pentecost."
The Sundays of ordinary time fall between Epiphany and Lent and between Pentecost and Advent.  The gospel readings in ordinary time are about the ministry of Jesus: his teachings, his travels, and his miracles.
In June, we ponder parables about seeds and stories of miracles.  We hear Jesus say that "if a house is divided against itself, that house will not be able to stand" and talk about the true meaning of family.
The color assigned to these Sundays is green.  It should make you think of new life and growth, because these are the Sundays when we learn how to grow and mature as people of faith.
Look for ways make the days of summer as extraordinary as possible.  Try starting each day by thanking God for five ordinary, everyday things. If your days are falling into a routine, examine your daily habits to see if it's time to explore some change.
It is my prayer in ordinary time that each of us will grow in our faith and in our sense of what is possible for us as individuals and as a community.
Your brother in Christ,
Pr. Paul
WEEKLY ACTIVITIES FOR OUR TRINITY FAMILY

Sunday Worship 10:00 a.m.  (Live-streams and recordings are posted on our Worship Page)
Wednesday 9:00 a.m.  Bert's Breakfast Buddies (Meet at Kopper Kitchen – 5562 Central Ave)
Thursday at 2 and at 7 p.m Bible Study (via Zoom –  meeting ID: 402615714) 
Friday 10:00 a.m. – 12:00 p.m.  Distribution at the TLC Food Pantry