Our Mission at Trinity is very simple: Sharing Christ's Love through Welcoming, Worshiping, Learning, and Serving. We take great joy and satisfaction in working within the community, and welcoming all who wish to worship with us.

Trinity Evangelical Lutheran Church (ELCA)
401 Fifth Street North, Saint Petersburg, FL 33701
Sunday Worship: 10 a.m.
W

e welcome all who come to our worship services.
Communion is open to all believers!
  Trinit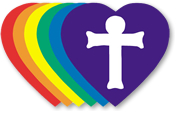 y is a "Reconciling in Christ" Congregation in the ELCA.  — Welcoming all people without regard to race, family or economic status, gender identity, sexual orientation, or differing abilities.
Join Us This Sunday!
Join us as we celebrate Easter next Sunday with trumpet and strings! Music of Gallus, Handel and more! 

Sunrise Service at 6:30am (at Mirror Lake)
Regular Service at 10:00am
Trinity Lutheran is located in the downtown area of Saint Petersburg, a block from the Coliseum and the Senior Center. Parking is available in three lots and on the street. VIEW MAPS

The Church Office is open Monday through Thursday 9:00 am – 3:00 p.m.
Enjoy our member, Brendan Hall, performing the Prelude and Fugue in C Minor from Bach's "The Well-Tempered Clavier," as he did at Trinity on the Third Sunday of Advent.
From Pastor Paul
"Let us pray."
We hear those words every time we gather for worship, but some may wonder what they mean.  What is "prayer" and how do we do it?  Prayer in worship usually consists of words spoken to God to give thanks for blessing or to ask for help in trouble.  When Jesus' disciples asked him to teach them how to pray, he gave them a set of words that begin with "Our Father in heaven…"
But the Bible tells us that Jesus would spend hours praying in solitude.  Surely, he wasn't just saying the Lord's Prayer over and over again.  The truth is that there are lots of different kinds of prayer, some using words and some not.  We can pray using the carefully crafted words that someone has created for us, but we can also use our own words to form our prayers or allow the Bible to inspire them.
There are forms of prayer in which the words used are not as important as the time set aside for using them.  The Orthodox and Roman Catholic churches encourage people to devote time to praying short phrases over and over again.  "Praying the rosary" is based on this kind of prayer, as is the repeated use of the words "Lord Jesus Christ, Son of God, have mercy on me, a sinner," which is known as the "Jesus Prayer."
The form of prayer that the congregation has been using in Lent, and that some will commit to using in the days and weeks to come, doesn't even rely on words.  "Contemplative prayer" is the attempt to move the mind away from words and images in order to be fully open to the presence of God.
With all of these different forms of prayer, perhaps the most accurate definition of the word would be something like: "habitual and dedicated communication between God and the human spirit that is as much about listening to God as speaking to God."
Prayer should be a regular habit, not just something we do on Sundays.  We need to develop our relationship with God the same way we do with friends—by spending a lot of time together.  But it takes dedication to develop the habit of prayer.  Our society seems determined to keep us moving at a fast pace; we need to deliberately set aside time for whatever form of prayer we choose to practice.
Prayer is a two-way conversation between God and us; we speak to God and allow God to speak to us.  It doesn't always happen in ways that our senses can perceive, but God promises to hear our prayers and respond to them.
Look for ways that you can make prayer a thing that happens every day of your week, and not just on Sunday.
WEEKLY ACTIVITIES FOR OUR TRINITY FAMILY
Sunday 9:00 a.m Bible Study
Sunday Worship 10:00 a.m.
Tuesdays & Fridays 10:00 a.m. – 12:00 p.m. Distribution at our Food Pantry
Wed 8:15 a.m. Men's Breakfast @ Rae Rae's
Wed 5:45 p.m.  Bell Choir practice
Thu 6:30 p.m.  Maundy Thursday Service 
Fri 12:30 p.m. and 6:30 p.m. Good Friday Service
Sat 8:00 a.m. Loaves & Fishes Breakfast for the community