Our Mission at Trinity is very simple: Sharing Christ's Love through Welcoming, Worshiping, Learning, and Serving. We take great joy and satisfaction in working within the community, and welcoming all who wish to worship with us.

Trinity Evangelical Lutheran Church (ELCA)
401 Fifth Street North, Saint Petersburg, FL 33701
Sunday Worship: View our services online (see Worship page)
W

e welcome all who come to our worship services.
Communion is open to all believers!
  Trinit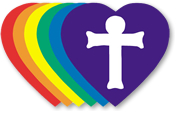 y is a "Reconciling in Christ" Congregation in the ELCA.  — Welcoming all people without regard to race, family or economic status, gender identity, sexual orientation, or differing abilities.
Trinity Lutheran is located in the downtown area of Saint Petersburg, a block from the Coliseum and the Senior Center. Parking is available in three lots and on the street. VIEW MAPS

The Church Office is open M-Th 9am – 3pm
Help support the ministry of Trinity Lutheran Church. Click the blue "Donate Now" button at the bottom of this page, or use your smart phone's camera to follow the QR Code.
Enjoy our member, Brendan Hall, performing the Prelude and Fugue in C Minor from Bach's "The Well-Tempered Clavier," as he did at Trinity on the Third Sunday of Advent.
From Pastor Paul
Jesus came and said to them, "All authority in heaven and on earth has been given to me. Go therefore and make disciples of all nations, baptizing them in the name of the Father and of the Son and of the Holy Spirit, and teaching them to obey everything that I have commanded you. And remember, I am with you always, to the end of the age."      (Matthew 28: 18-20)
Jesus told his disciples to go out into the world and make more disciples.  If the word disciple means "student," what does this mean?  How do students create more students?  What does it mean to be a student of Jesus?
In ancient times, students "learned" from their teachers by copying the example of their lives.  Being a disciple of Jesus involves imitating him.
Promises are made during the rite of baptism; when we are too young to make the promises for ourselves, our parents make them for us.  These promises provide a guide for imitating Jesus and being one of his disciples.
We make five promises: to live among God's faithful people, to hear the Word of God and share in the Lord's Supper, to proclaim the good news of God's love through our words and deeds, to serve all people following the example of Jesus, and to work toward justice and peace in all the earth.
The first two promises involve us being fed and empowered by God.  We spend time in the company of other Christians, encouraging one another as a community of faith.  We read the Bible and discuss it with one another, so that we can interpret how it is speaking to us and to our lives, and we receive the bread and wine of Communion to remind us of how much we are loved by God.
The other three promises involve us loving and serving our fellow human beings as Jesus did—with compassion, with humility, and with a commitment to peace and justice.
The gospel of Mark is an excellent training manual for disciples.  It is the shortest and simplest of our four gospels, and it highlights the shortcomings of the original twelve disciples in order to encourage us to do better.
Because I believe that God is calling us to be disciples of Jesus in the 21st century, I am encouraging every member and friend of this congregation to read Mark's gospel as your own personal instruction book.  Put yourself into the story and consider how you would respond to events.  Ask yourself where it is that Jesus wants you to go.
In the "Discipleship Manual" that I passed out on the first Sunday of the new year, I divided the gospel into 60 short daily readings and reflections, and invited people to read and ponder them over the next 60 days.  We can send additional copies of the "Manual" by traditional or electronic mail.
The readings are short enough that, if you fall behind, it's easy to get caught up.  And, if God grants you some extra time in a day, you can even get ahead of schedule.  You'll be able to finish the daily reading in only a minute or two; I hope you'll spend more time pondering the reflection statement or question that follows the daily reading.
Write down any insights that come out of your time of reflection; share them with me or with other members of the congregation.  We'll be doing this work together at our Wednesday evening "Suppertime Studies;" some of our small groups will also engage with the material.  If nothing else, send your insights to me and I will respond.
It is my hope and my prayer that, between now and Ash Wednesday, we will all have the opportunity to study our "Discipleship Manual" and consider how we can become better students of our Savior.
WEEKLY ACTIVITIES FOR OUR TRINITY FAMILY

Sunday Worship 10:00 a.m.  (Services will be pre-recorded and links posted on our Worship Page)
Tuesdays 10:00 a.m. – 12:00 p.m.  Distribution at the TLC Food (& Clothing) Pantry (on Hiatus)
Wed 8:15 a.m.  Men's Breakfast (on Hiatus)
Wed 6:30 p.m.  Evening Prayer Service (Facebook Live)
Saturday 3:00 p.m Book Study (via Zoom –  meeting ID: 402615714)