Our Mission at Trinity is very simple: Sharing Christ's Love through Welcoming, Worshiping, Learning, and Serving. We take great joy and satisfaction in working within the community, and welcoming all who wish to worship with us.

Trinity Evangelical Lutheran Church (ELCA)
401 Fifth Street North, Saint Petersburg, FL 33701
Sunday Worship: 10 a.m.
W

e welcome all who come to our worship services.
Communion is open to all believers!
  Trinit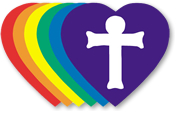 y is a "Reconciling in Christ" Congregation in the ELCA.  — Welcoming all people without regard to race, family or economic status, gender identity, sexual orientation, or differing abilities.
Join Us This Sunday!
We have an outstanding choir, and on Oct 13th
the Offertory piece they will be singing will be:
O Be Joyful!
by L. S. Glarum
Trinity Lutheran is located in the downtown area of Saint Petersburg, a block from the Coliseum and the Senior Center. Parking is available in three lots and on the street. VIEW MAPS

The Church Office is open M-Th 9am – 3pm
Enjoy our member, Brendan Hall, performing the Prelude and Fugue in C Minor from Bach's "The Well-Tempered Clavier," as he did at Trinity on the Third Sunday of Advent.
From Pastor Paul
"I am not ashamed of the gospel; it is the power of God for salvation to everyone who has faith… For in it the righteousness of God is revealed through faith for faith; as it is written, 'The one who is righteous will live by faith.'"  (Romans 1:16-17)
When Martin Luther realized that the righteousness of God was not something that he had to earn or achieve, but rather something that God offers as a gift, it transformed his life and inspired him to work for the transformation, or reformation, of his Church.
Reformation Sunday is always the last Sunday in the month of October; it commemorates the day that Luther published his "95 Theses," a list of ideas that he wanted to discuss with other church leaders.
Luther wanted to guide the Church back to an understanding of God's love and mercy that had been forgotten in the Middle Ages.  He never imagined that he would be the father of a new Christian denomination or of all the denominations that describe themselves as "Protestant."
In the 502 years since the Protestant Reformation, the Lutheran Church has continued to reform itself, seeking better ways to communicate the good news of God's love and forgiveness.
In the five short years since I was called to serve Trinity Lutheran Church, I've watched this congregation reform itself, as well.  We've explored different ways of worshiping God, we've committed ourselves to a deeper understanding of God's word, and we've created new opportunities for us to love and serve our neighbors.
One of the things that delights me about this congregation is that we are always growing, always learning, always trying new things.  I pray that the Holy Spirit will continue to reform us to be the congregation that God needs us to be in this constantly changing city and community.
WEEKLY ACTIVITIES FOR OUR TRINITY FAMILY
Sunday 9:00 a.m Bible Study
Sunday Worship 10:00 a.m.
Wed 8:15 a.m. Men's Breakfast 
Wed 5:45 p.m.  Bell Choir practice
Wed 6:30 p.m. Supper Study
Fridays 9:30 a.m. – 12:30 p.m. Distribution at the TLC Food (& Clothing) Pantry

The Ibis String Quartet—violinists Julie Tollen and Rebecca Zapen, violist Lauren Collier, and cellist Ruth Kern—has performed its unique blend of Classical and Pop music throughout the Tampa Bay Area.
It has been featured in "Sound Bites" as part of the ARTS46/4 initiative and premiered "Three Dementians," by St. Pete's own Tom Sivak, at Creative Pinellas' Festivale 50. It has also performed regularly at Creative Soul Studio and Classical Revolution St. Petersburg, and appeared live in the studio on WFLA News Channel 8's "Daytime."
On Saturday, Nov. 16, at 8:00 p.m., at Trinity Lutheran Church in downtown St. Pete, Ibis will play, among others, selections by Beethoven, Dvorak, Mozart and Scott Joplin, arrangements from "Carmen" and "La Boheme," and a surprise pop tune or two.
Proceeds from the concert pay for the restoration of Trinity's historic pipe organ and support the music ministries of the church.