Our Mission at Trinity is very simple: Sharing Christ's Love through Welcoming, Worshiping, Learning, and Serving. We take great joy and satisfaction in working within the community, and welcoming all who wish to worship with us.

Trinity Evangelical Lutheran Church (ELCA)
401 Fifth Street North, Saint Petersburg, FL 33701
Sunday Worship: 10 a.m.
W

e welcome all who come to our worship services.
Communion is open to all believers!
  Trinit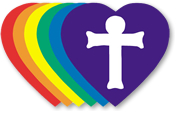 y is a "Reconciling in Christ" Congregation in the ELCA.  — Welcoming all people without regard to race, family or economic status, gender identity, sexual orientation, or differing abilities.
Join Us This Sunday!
Sept 8 our AWESOME choir returns!
Offertory piece will be Felix Mendelssohn's Lord, Thou Alone Art God
Trinity Lutheran is located in the downtown area of Saint Petersburg, a block from the Coliseum and the Senior Center. Parking is available in three lots and on the street. VIEW MAPS

The Church Office is open M-Th 9am – 3pm
Enjoy our member, Brendan Hall, performing the Prelude and Fugue in C Minor from Bach's "The Well-Tempered Clavier," as he did at Trinity on the Third Sunday of Advent.
From Pastor Paul
"Back to School"
I always associate the month of September with going back to school; I can't get used to the first day of school being in August. There's a part of my mind that still divides a year into three seasons:  fall semester, spring semester, and summer vacation.
Lutherans love learning; we've founded colleges, universities, and seminaries all over this country and all over the world.  Martin Luther was ahead of his time in encouraging education for girls, as well as boys.
At Trinity, our mission statement is "to make Christ known by welcoming, worshiping, learning, and serving."  But I wonder if we devote enough attention to learning.  I try to teach in my sermons; we have a dedicated group that participates in Sunday morning Bible study and Wednesday's Suppertime Study.  But do we understand it to be a part of our calling as Christians to keep educating ourselves—to always be learning so that we can "make Christ known"?
We keep up with the news to know what's going on all over the world, but do we work to connect our knowledge of world events with our knowledge of God?  And is our understanding of God keeping pace with a rapidly changing world?
We don't only learn by reading books and going to schools; we also learn and grow by reflecting on life's experiences.  But September always seems like a good time to celebrate what organized education can teach us—about life and about God.
There are a number of ways to pursue knowledge.  Your own curiosity can guide you through the shelves of a good library.  I've amassed a far-too-large collection of books that I'm always eager to share.  Our synod offers "Diakonia"—a two-year program of study that covers the Bible, church history, and Christian doctrine.  It's often done as part of becoming a deacon to serve a congregation, but it can also be done for no reason other than a way of learning more about the God we love and serve.
WEEKLY ACTIVITIES FOR OUR TRINITY FAMILY
Sunday 9:00 a.m Bible Study
Sunday Worship 10:00 a.m.
Tuesdays & Fridays 10:00 a.m. – 12:00 p.m. Distribution at our Food Pantry
Wed 8:15 a.m. Men's Breakfast 
Wed 5:45 p.m.  Bell Choir practice
Wed 6:30 p.m. Supper Study
Sunday, June 30th:  The Pleasure of "Sweet Company"
Sunday, Sept 29th:  Broadway Goes West!  (Note New Date!)
DATE TBD : The Pirates of Penzance
Proceeds from these concerts pay for the restoration of Trinity's historic pipe organ and support the music ministries of the church.
Tickets $15 each or $40 for all three programs, can be purchased by calling 822-3307.